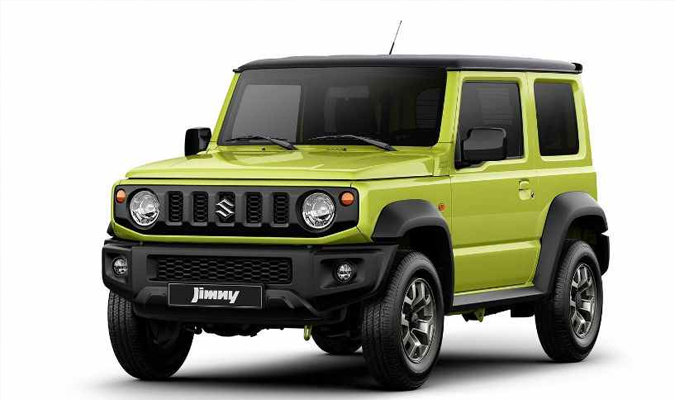 सुज़ुकी ने हाल ही में चौथी जनरेशन की जिम्नी को जापान में लॉन्च किया है। बताया जा रहा है कि 2019 में इसे भारत में लॉन्च किया जा सकता है। हालांकि कंपनी की ओर से इसकी कोई आधिकारिक जानकारी नहीं दी गई है।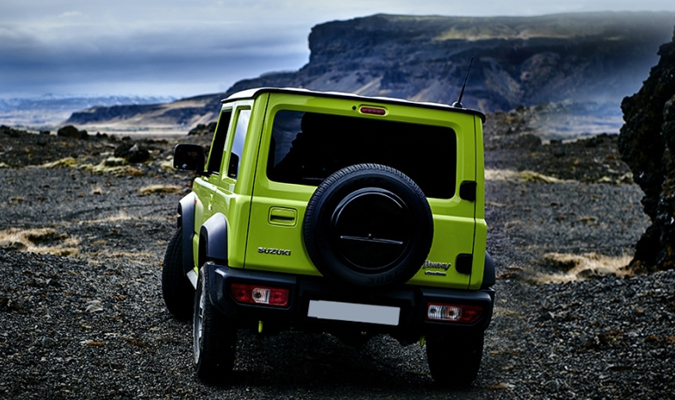 मीडिया रिपोर्ट्स की मानें तो भारत में जिम्नी मारूति जिप्सी की जगह ले सकती है। बता दें कि जिप्सी भारत में 1985 में लॉन्च हुई थी। तब से लेकर अब तक जिप्सी में कोई अपडेट नहीं किया गया है। यहां हम सुज़ुकी जिम्नी की तुलना मारूति जिप्सी से कर रहे हैं…
जिम्नी, जिप्सी से 365 एमएम कम लंबी और 150 एमएम कम चौड़ी है। जिप्सी का व्हीलबेस जिम्नी से 125 एमएम ज्यादा बड़ा है। जिम्नी में जिप्सी की तुलना में पीछे की तरफ कम स्पेस मिलेगा। जिप्सी में आठ व्यक्ति बैठ सकते हैं जबकि जिम्नी में केवल चार व्यक्ति बैठ सकते हैं।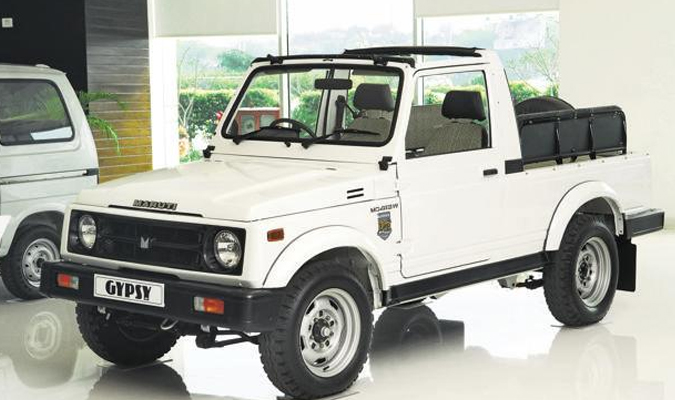 इंजन और परफॉर्मेंस
सुज़ुकी जिम्नी में के15बी 1.5 लीटर पेट्रोल इंजन है जबकि मारूति जिप्सी में जी13बीबी 1.3 लीटर पेट्रोल इंजन दिया गया है। जिम्नी की पावर 102 पीएस और मारूति जिप्सी का 81 पीएस है। सुज़ुकी जिम्नी 130 एनएम का टार्क जनरेट करती है, जबकि मारूति जिप्सी 103 एनएम का टार्क देती है।जिम्नी में 5-स्पीड एमटी/4-स्पीड एटी गियरबॉक्स है, मारूति जिप्सी की बात करें तो इसमें 5-स्पीड एमटी गियरबॉक्स है।
फीचर
मारूति जिप्सी के भारत में लॉन्च से अब तक इसके फीचर में कोई बदलाव नहीं किया गया है। जिप्सी में बेसिक फीचर फ्रंट एयरबैग, एबीएस, पावर स्टीयरिंग और मैनुअल एसी नहीं है।
चौथी जनरेशन की जिम्नी में छह एयरबैग, एबीएस, ईबीडी, ब्रेक असिस्ट, इलेक्ट्रॉनिक स्टेबिलिटी प्रोग्राम, ट्रेक्शन कंट्रोल, ऑटोनॉमस इमरजेंसी ब्रेकिंग और लैन डिर्पाचर जैसे फीचर दिए गए हैं। साथ ही एलईडी हैडलैंप्स, डे-टाइम रनिंग एलईडी लाइटें, ऑटोमैटिक क्लाइमेट कंट्रोल, पुश बटन स्टार्ट और एपल कारप्ले सपोर्ट करने वाला 7.0 इंच स्मार्टप्ले टचस्क्रीन इंफोटेंमेंट सिस्टम भी दिया गया है। इसके अलावा रिसर्कुलेटिंग बॉल-टायप पावर स्टीयरिंग, ब्रेक एलएसडी, लॉ रेंज ट्रांसफर गियर है।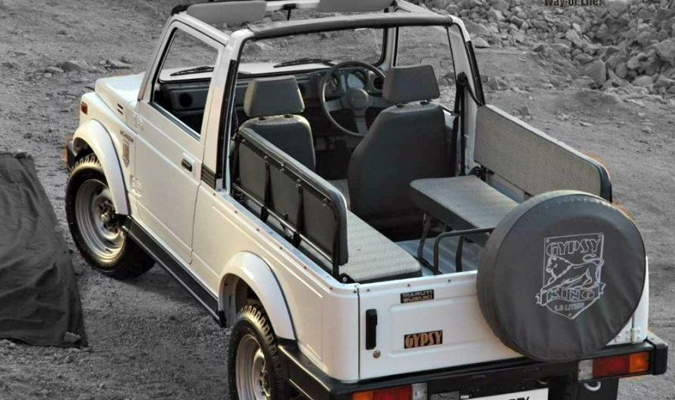 कीमत
जिप्सी की कीमत 6.25 लाख रूपए से 6.39 लाख रूपए (एक्स-शोरूम, दिल्ली) के बीच है। जिम्नी अभी भारत में लॉन्च नहीं हुई है। बताया जा रहा है लो इसकी कीमत 8 लाख रूपए के आसपास हो सकती है।
दिसंबर की 26 तारीख को चीन की कंपनी Gionee मैराथन बैटरी से लैस स्‍मार्टफोन बाजार में लॉन्‍च करने की तैयारी में है। Gionee M2017 स्‍मार्टफोन में 7000 mAh की बैटरी होगी। इस स्‍मार्टफोन को पिछले महीने चीन में सर्टिफाई किया गया था।
तस्‍वीरों में देखिए 5,000 रुपए से कम कीमत वाले 4जी स्‍मार्टफोन्‍स
फोनअरेना की रिपोर्ट के मुताबिक, Gionee ने पुष्टि की है कि Gionee M2017 को 26 दिसंबर को हैकुओ मिशन हिल्स में आयोजित होने वाले एक इवेंट में लॉन्च किया जाएगा। यह स्मार्टफोन ब्लैक कलर वेरिएंट में लॉन्च किया जाएगा। आधिकारिक लॉन्च के बाद ही इसकी कीमत के बारे में जानकारी मिलने की उम्मीद है।
Gionee M2017 के फीचर्स और स्‍पेसिफिकेशंस
लीक हुई खबरों के मुताबिक, Gionee M2017 में डुअल रियर कैमरा सेटअप होगा। इस फोन में 12MP और 13MP रियर कैमरा और 8MP का फ्रंट कैमरा होगा। इस हैंडसेट में ऑपरेटिंग सिस्‍टम एंड्रॉयड 6.0 मार्शमैलो होने की उम्मीद है। फोन का डाइमेंशन 155.2×77.6×10.6 मिलीमीटर और वज़न 230 ग्राम हो सकता है। इसी महीने कंपनी ने इस स्मार्टफोन का टीज़र जारी किया था। Gionee के आने वाले फोन में 5.7 इंच क्वाडएचडी डिस्प्ले, 6GB RAM और 1.9 गीगाहर्ट्ज़ ऑक्टा-कोर प्रोसेसर होने की उम्मीद है। इसके अलावा इस हैंडसेट में 128GB की स्टोरेज सुविधा दी जा सकती है।

The information party just started. Not long ago, Vodafone dispatched its 4G administration in Kerala. This Sunday, Mukesh Ambani-controlled Reliance Industries dispatched Lyf, its 4G-empowered telephone, and its Jio 4G administrations – just for workers at present. A full business dispatch is expected in end March or early April 2016. Just before Jio, came Idea. Airtel and Aircel have as of now propelled their 4G administrations.
4G, or LTE as it is called all around, packs immense measures of information making it simpler to transport it over the wireless transmissions. This signifies "better speeds and, accordingly, more video utilization. What's more, anything that pushes up video utilization is beneficial for us," says Sudhanshu Vats, bunch CEO, Viacom18 Media.
That is putting it mildly. 4G, say investigators, is the single greatest distinct advantage in the Rs 100,000-crore market for media and amusement in India. To a great extent in light of the fact that it could trigger enormous utilization of versatile video, growing the business sector for everything – from movies and music to daily papers and TV appears. What's more, on the grounds that it brings the huge young men, the telecom and broadband system administrators, once more into the media amusement.
"(4G) LTE systems, multi-media brilliant cell phones and improved application biological system will drive higher information utilization among clients. Jio is offering so as to drive this advancement a complete computerized experience through an all IP-system, consistent availability, rich biological community of substance driven applications and VoLTE competent multi-media cell phones," says Sanjay Mashruwala, overseeing executive, Reliance Jio Infocomm. Shorn of language this implies Reliance Jio is wagering on media utilization as well as a biological system with last-mile get to, a remote 4G system, gadgets and heaps of applications.
While human services, training and saving money are on the cards, media and diversion will lead the charge. Jio Cinema, Jio Beats (music), Jio Play (TV), Jio News (daily papers) and even Jio Money (a portable wallet) are among the many things on offer. Jio Play has 160 standard definition TV channels and 40 top quality ones. Each real daily paper, news channel and amusement organization is either on board or is presently being marked on. There are likewise the Network18 channels, for example, CNBC-TV18, which the Rs 388,494-crore RIL claims, and Colors, MTV et al that it possesses through a joint endeavor with Viacom. Like whatever other administrator, Jio will likewise offer open access to other amusement applications or locales you need to go to through its system.
At that point there is the Rs 42,352-crore Vodafone India. On the off chance that you live in Kerala, where it has quite recently dispatched 4G, you could move up to a 4G SIM free of expense and sign into a boundless motion picture and music membership and different freebies in packs that range from Rs 29 (120 megabytes) to Rs 2,499 (20 gigabyte).
Finding new screens
At 800 million TV viewers, India is the world's second biggest TV market by volume. Yet on a for every capita measurements – time spent, commercial spend, normal incomes per client – it doesn't work out quite as well. One major reason is that India's 160 million TV homes have one and only TV on account of the conviction that TV viewing is a family thing. This leaves the field totally open for cellular telephones, tablets or some other screen to wind up the second, third or fourth screen of the crew. That clarifies, to some degree, why utilization of online video, at 100 million viewers presently, is developing so quick in India.
In the course of recent years, as 3G developed, the normal utilization of information has developed from a little more than 200 megabytes for every second on 2G to more than 680 megabytes on 3G telephones. Vodafone alone saw a hop of 65 for every penny in information incomes. Quite a bit of this development is driven by video – a transfer speed guzzler. Presently include another number – a standard definition film takes anything from 0.3 to 0.7 gigabytes of information and a top quality one up to 1.5. Movies or long shape video hoard an excessive amount of data transmission, making their gushing or download burdensome and brimming with intrusions. That is the thing that Hotstar or Sony Liv too report: movies and other long frame recordings are not devoured as much as the short, snacky games, news or webisodes.
On the off chance that 4G uproots data transfer capacity and value imperatives, then "the upside in this business sector is colossal," says Harit Nagpal, CEO, Tata Sky. Most 4G administrations are accessible between Rs 80 and Rs 125 for each gigabyte of information. That is generally the same cost as 3G with significantly more treats, for example, voice and free messages, tossed in. A few experts figure that as the five systems get into play, information costs could drop to Rs 10 to Rs 50 for every gigabyte. This fall will "drive utilization, particularly of long frame content (film, TV appears)," says Gaurav Gandhi, COO, Viacom18 Digital Ventures.
Punit Goenka Not everybody concurs. "Aside from nibbling content, I don't see long frame content utilization of video going up on remote. Under 7 for each penny of Netflix's utilization is on remote. The genuine utilization will remain wireline and conventional," says Punit Goenka, overseeing chief and CEO, Zee Entertainment Enterprises. "Wherever conceivable, clients want to watch on the greatest screen conceivable. As sign quality goes up, the huge screen experience matters an ever increasing amount," concurs Anurag Dahiya, head (content and publicizing deals), Singtel. That is the reason the administrator with a settled line into the home, Wi-Fi and 4G, could be a major victor, say experts. Thus far just Jio and Airtel are taking a shot at that sort of last mile access.
The other distinction will be between the joined, zapped India and the not really all around associated India. As a gathering, Vodafone has propelled 4G administrations in 20 nations (counting India). "The likelihood of clients overhauling is higher in the metros as they have been as of now utilizing information. Information, particularly in rustic India, is limited to amusement and data needs. Voice will keep on remaining the backbone," says Sunil Sood, overseeing executive and CEO, Vodafone.
Goenka includes, "The most extreme development for Ditto (Zee's online video brand) has originated from provincial markets where power is an issue." Srini Gopalan, chief, buyer business, Bharti Airtel, clarifies: "In rustic Bihar and UP, individuals put their telephone on throughout the night and download (as much as )2GB of information, films that are then exchanged to clients on the grounds that there is no force. As a system designer, this presents an open door on the delicate underbelly – on the off chance that we can oragnise this, we can monetise it. A cell phone with better network can slaughter theft and give specialists more open door. More use will move to legitimate sources."
Old versus new
Be that as it may, tackling this development, in the event that it happens, needs a telecom industry with an alternate personality set. Over five years prior, telecom administrators were the enormous movers in the media market with ringtones and music getting productive cuts of incomes. The wagers were that they would soon surpass the enormous players on media incomes. They didn't. Their cussedness on keeping 70-80 for each penny of the incomes from substance implied that makers searched for and discovered ways -, for example, applications and off-deck administrations – to sidestep them. At that point WhatsApp and other talk applications took the scrape the bottom of the informing market and abruptly telcos were deserted. It is in this period that online video utilization began developing, introducing an open door that telecom organizations would prefer not to miss. "As a player we require community oriented associations," is all Gopalan says on the lessons learnt from quality included administrations.
While he or other system administrators decline to share points of interest of substance arrangements, this is an alternate business sector. For one, Google's YouTube has set the setting with income shares that normal 50 for each penny. The telecom organizations' hold over charging – with versatile wallets and money down – is currently over. At that point, the vast majority of the great substance sits with around 10 top media firms in a now combined industry. Goenka figures, "If the substance is sufficiently solid, we ought to get a decent amount – 30-40 for every penny is sensible."
Indeed, even with those parts, the truth remains that telecom organizations will cast a major shadow over the media business. Before the second's over quarter of 2015-16, RIL had contributed Rs 93,000 crore on Jio. That is more than 10 times the incomes of Star India or the whole Zee Group. On top line, Airtel and Vodafone are between five to ten times the extent of the main three media firms in India. RIL is right around four times the span of the whole media and excitement industry in India.
The difficulties
The test, on the other hand, is not the huge versus little players, but rather the innovation itself. "Despite the fact that there are a couple 4G handsets accessible in the business sector, the truly moderate ones are still constrained. Just three for every penny of our shoppers today have 4G telephones. After such a variety of years of 3G, just 28 for every penny of our shoppers have a 3G-empowered gadget," says Vodafone's Sood. Right now, pretty much a few for each penny of India's 970 million telephone clients have a 4G-empowered handset. It costs between Rs 4,000 and Rs 20,000 and there aren't numerous in the business sector at present. In any case, the passage of five vast players ought to change that as it did in different markets. In China, for occurrence, the presentation of 4G a year ago has implied that 70 for every penny of the handsets sold there now are 4G-empowered.
The absence of value arbitrage in the middle of link and online is the other test. In the US, where link costs range in the middle of $50 and $80 a month, Netflix, at $8-12, figured out how to genuinely disturb the business sector. "In India, purchasers pay Rs 250 for 300 channels on show – including sports, children and global substance. That is the reference. Consequently, we have a test in splitting a membership cost point for video on interest in India," says Gandhi.
As video utilization develops, will it eat into customary media? No matter how you look at it, the answer is no. Nagpal focuses to examine that demonstrates that online media utilization in created provinces developed at the expense of conventional media. In any case, in India, where complete media utilization is around 37 hours a week, contrasted with, say, 65 in the US, all new utilization is additiv
Retail is not really a danger to India's security, so why is an arrangement around the part so wary? Numerous in the business have posed this question over and again. Progressive governments at the Center, paying little heed to their political alliance, have embraced a piecemeal approach with regards to confining standards on remote interest in the area. On the off chance that anything, this has smothered development for the business, which, as indicated by an A T Kearney report, is worth $925 billion, or Rs 60 lakh crore.
Indeed, even as the National Democratic Alliance government acquainted key changes with the outside direct speculation (FDI) arrangement connected to retail as of late, the reasoning behind it keeps on being tangled, say investigators. "The general attitude of the administration towards retail is still what it was 15 years back," says an industry official. The late changes were gone for single brand retail, which incorporates global brands, for example, Marks and Spencer, Zara, H&M, Ikea, GAP, among others. While 100 for each penny FDI was allowed in single brand under the United Progressive Alliance control, the present National Democratic Alliance government further facilitated the sourcing tenets.
Remote brands now need to consent to 30 for each penny neighborhood sourcing standard three years after their first store is opened in India, rather than three years subsequent to consolidating the Indian element as was required before. Additionally, innovation organizations, for example, Apple could get help from sourcing tenets as the administration arrangements to take after a case by case leeway approach for specific candidates.
Aside from these progressions, single-brand chains have likewise been permitted to begin e-trade business. Having the capacity to offer online will bring their India business on the same balance as their global business. As Ikea CEO Peter Agnefjall as of late told Business Standard, India would have been the main nation on the planet where the organization was not ready to seek after online business. After the arrangement transforms, it is set to change now.
Notwithstanding these changes, which would surely make working together in the nation easier for outside design, outfitting, adornments and tech organizations, there's uplifting news for little and medium producers as well. These undertakings, which regularly offer their items through stages facilitated by commercial center e-trade players, for example, Flipkart, Snapdeal, Amazon and Paytm, can now set up their own particular online endeavors. The new rules have permitted organizations producing in India to offer internet, something that was a hazy area till now.
This is relied upon to help Prime Minister Narendra Modi's pitch for "Make in India" too. "I obviously see this (FDI changes) as the administration attempting to loosen up the bunches," says Anil Talreja, duty accomplice at Deloitte Haskins and Sells.
In any case, two torment focuses still remain. One is multi-brand retail, where expansive sustenance and basic supply players like Walmart and Tesco are available globally through their chain of general stores, and the other is e-business.
In India, this class is served by chains upheld by Mukesh Ambani-drove Reliance Industries and Kishore Biyani's Future Group, other than the sloppy kirana stores. As Pinaki Ranjan Mishra, accomplice and national pioneer, EY, focuses out, there's no sign from this legislature yet on any adjustment in stand on multi-brand.
The UPA government had allowed 51 for every penny FDI in multi-brand retail, yet left it to the states to take a last approach whether outside players ought to set up shop in their state or not. The NDA administration has not changed the arrangement on paper but rather has kept up it is against FDI in multi-brand in light of the fact that it could prompt critical occupation misfortunes.
The apprehension of harming the kirana stores is the thing that had brought on the past government to wait over a retail strategy and afterward warily open it up to 51 for each penny. It's the same apprehension that is keeping the generally FDI-accommodating NDA government from permitting outside players to open stores in India. The deferral has provoked numerous organizations to reconsider their arrangements. Walmart which had come to India with the expectation of setting up retail locations has moved over to money and convey operations, while French tie Carrefour collapsed up its India operations a couple of months back.
With respect to e-trade, FDI is still not allowed in the segment, which is pegged at $16 billion. Albeit most organizations in the area are financed by marquee universal financial specialists, the rulebook says no to FDI. As an exit plan, organizations are taking after the commercial center or B2B model where FDI principles are noiseless. In the mean time, the administration has shown that a strategy on new businesses is en route. That maybe, numerous trust, will likewise deliver the issues identified with FDI in e-trade.
Internationally, FDI tops in retail are not typical, but rather India has stayed with it, says Arvind Singhal, organizer, Technopak, a retail consultancy. "The administration ought not get into the matter of proprietorship in retail," he says. Maybe, it ought to take a gander at whether there's reasonable rivalry in the division or not; and whether buyers are being ensured as far as nature of items and administrations, he says. "The rest ought to be left to market compels." The hold up is on.